Simple web based video meeting software
This is an experimental local install of Jitsi Meet, open source WebRTC video conferencing. On a desktop or laptop this requires no additional software to be installed, but there are clients for desktops, Apple and Android phones.
>> Access Meet.Gen here <<
Instructions
Home page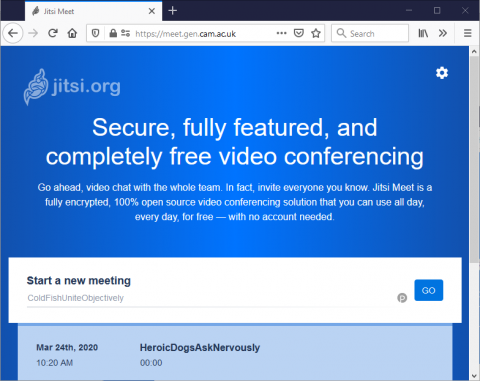 In the top right there is a gear which will bring up settings. In the middle of the page is the start new meeting dialogue. Each meeting is identified by a name, the software will create random names, but you can also choose your own name or enter the name of an existing meeting. Click the "GO" button to start or join the meeting.
Joining or starting a meeting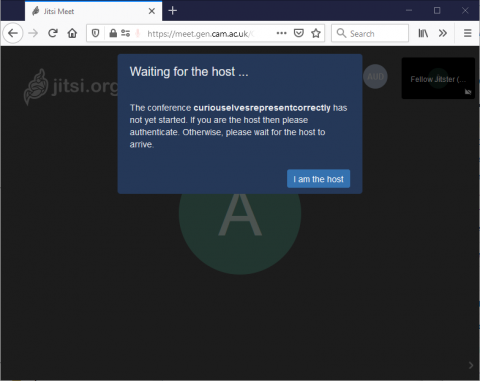 If a meeting does not yet exist with the name you have chosen you will see this screen. Only active members of Genetics can create meetings, although anyone who knows the name (and password, if set) of a meeting can join.
If you have a Genetics DEPT account you can host the meeting by clicking the "I am the host" button and logging in with your username (without the @ or anything after) and password.
Inviting participants
To invite people you can either tell them the name, which they can enter on the home page, or once the meeting is started, click the "i" icon near the bottom right to get a link to directly join the meeting.

At present you will have to send this link via email or other messaging systems.
Permissions
If you use a web browser it will ask your permission to share your microphone, camera and/or desktop.

On Firefox a microphone (as show above,) camera or two rectangles (representing windows on a screen) will flash near the web address and a pop-up window should open. When screen sharing you will get the option whether to share the whole screen or just one window.
Chrome will show a red icon on the tab, and a camera on the far right side of the address bar. It will also pop-up a window when screen sharing permission is required.
During a meeting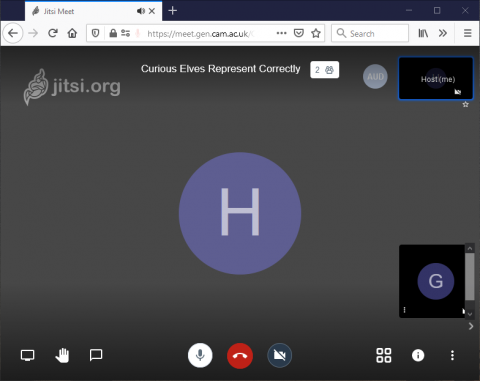 Your video image is shown in the top right. The round icon left of your video image shows the current audio/video quality.
Other participants are shown along the right hand side. A star indicates that a participant is a moderator, a hand icon indicates that a participant would like to speak. You can point at a participant to show their current connection quality, and see a pop-up menu where you can adjust the volume for that participant and send them a direct text message. On this menu moderators can also block audio or video from a participant or kick them out.
The rest of the interface is hidden until you move the mouse or tap the screen. At the top is the name of the conference and number of participants. Clicking the number of participants shows more information.
Along the bottom of the screen are
Screen icon: Press this to start screen sharing
Hand icon: Press this to indicate you would like to speak in a moderated meeting
Speech bubble: Open the public text chat
Microphone icon: Mute/unmute your microphone
Handset icon: Hang up/leave the meeting
Video camera icon: Block/unblock your camera
Four rectangles icon: Switch on showing all video streams in a "tiled" mode.
Info icon: Show the link for joining the meeting (copy this and send it to people to invite them.) Moderators can also set a password here.
Three dots: Menu with more options

"Name" - your current display name. Click to change
Manage video quality
View full screen
Share/stop sharing a Youtube video
Blur background
Settings (See below)
Speaker status
View shortcuts (See below)
Settings
Devices

Camera: Lets you choose which camera to use. Does not currently work properly in Firefox.
Microphone: Lets you choose which microphone to use.

Profile

Display name: Lets you set your display name during the meeting.
Gravatar email: If you have a "Gravatar" you can enter your email to retrieve it.

More

Moderation options: Mute everyone, hide everyone & force self to be visible.
Language
Keyboard shortcuts
F: Show/hide video thumbnails
M: Mute/Unmute your microphone
V: Block/unblock your camera
A: Manage call quality
C: Open/close public text chat
D: Switch on/off screen sharing
R: Raise/lower hand
S: Toggle full screen
?: Show keyboard shortcuts
"space": push to talk
T: Show participants and their statistics
0-9: Focus on different video streams