Unfortunately due to the outbreak of COVID-19 our outreach activities have been restricited for 2020.
I'm A Scientist
Katy Grobicki, PhD Student from the Karam-Teixeria Lab, took part in I'm A Scientist in November 2020. I'm A Scientist connects students to scientists, allowing primary and secondary school students to quiz scientists about their research, their day to day life, and any other science topics the students are interested in. Classes book sessions where students can live chat to scientists, from school or from home, so this has been a great outreach activity for lockdown.
"In my first sessions, the students have asked questions covering topics as varied as cancer, Alzheimer's, cloning, antibiotics and how genes are switched off and on, as well as asking about what we enjoy as scientists, how we carry out experiments, and how we became scientists."
Stem Cells @ Lunch Podcast
Alfonoso Martinez-Arias was interviewed on 10 October 2020 by PhD student Alice Vickers. Alfonso discusses the applications, ethical considerations, legislation, and difficulties of progressing his research using embryonic stem cells as a model system for studying human development. He also looks back at the experiences and experiments that hooked him on answering the vital question of how a single cell becomes a whole organism.  The podcast is available here.
Widening Participation School Residential
Elves Duarte from the Jiggins Group delivered a subject-based talk to Year 10 students from Reach Academy Feltham titled 'How insects fight microorganisms?' on 25 February 2020.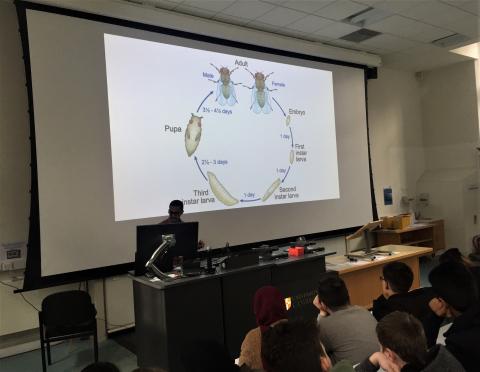 Elves kindly provided an abstract of the talk: 
Insects are one the most diverse group of organisms, including approximately half of all described animal species. Part of this evolutionary success relies on interactions with microorganisms which allow them to expand the range of ecological niches they occupy. The fruit fly Drosophila melanogaster is one of the best-studied insects in the world providing insights into how immune systems defend animals against microbes, including how infection leads to the activation of innate immunity. In recent years, studies, in Drosophila identified a bacterium called Wolbachia that makes insects resistant to viruses. As a consequence of this discovery, Wolbachia was transferred into mosquitoes, where it is being used to prevent the transmission of viruses that can cause disease in people. Due to their rapid reproduction and a simple life cycle, insects are easily grown in the laboratory which has resulted in fundamental insights into how animals and microbes interact.
Previous year's outreach and public engagement activities: