Drosophila Neuronal Cell Biology
Keywords
Drosophila, neuronal cell biology, neuromuscular junction, neurodegeneration, membrane traffic
Research interests
We use mainly Drosophila to study the structure-function relationships of neuronal membrane compartments - both their basic biology, and their relevance to neurodegenerative disease. Of particular interest is axonal endoplasmic reticulum (ER), implicated in several forms of hereditary spastic paraplegia (HSP).
Axonal ER and hereditary spastic paraplegia
Axonal ER forms a continuous tubular network reaching from the rest of the ER in the cell body, all the way to presynaptic terminals. Its formation and function are poorly understood, but its organisation is comparable to a "neuron within a neuron", potentially able to integrate physiological responses throughout the neuron. Is it important? Almost certainly - the motor axon degeneration disease, hereditary spastic paraplegia (HSP) results from mutations affecting several ER-shaping proteins, but their roles in formation and function of axonal ER are not known.
Using Drosophila, we have established roles for a number of HSP proteins in formation of axonal ER, by finding ER abnormalities in mutant axons. These proteins and mutations provide a valuable resource to better understand the mechanism of axon ER formation, as well as the physiological consequences of disrupting its presence or continuity. Current work includes the development of screening methods to identify additional genes and mechanisms for formation of the axonal ER network, analyses of the ER network by light and electron microscopy, and the consequences of ER disruption for the physiology of axons and other organelles that contact ER.
 
A recent conference talk on our axonal ER work
A recent talk about this work to a general audience
 

 

 

 

 

Click here to view Dr Lulu Zhao's video reconstruction of a tubular endoplasmic reticulum network in a Drosophila motor axon

And click here to see GFP-labeled ER in two larval motor axons, showing the dynamic nature of the ER network. Source: Dr Lu Zhao, https://elifesciences.org/articles/23882 (Video 4)

Funded by Marie-Sklodowska-Curie award 660516 from the European Commission Horizon 2020 program to Dr Lu Zhao

 

 

 

Microscopy image showing the posterior part of the axon and the muscle innervation (presynaptic terminals) by a single motor neuron. Source: Perez-Moreno and O'Kane. G3, 9(2):453 (2019) (https://www.g3journal.org/content/9/2/453).

Funded by Marie-Sklodowska-Curie award 745007 from the European Commission Horizon 2020 program to Dr JJ Perez Moreno.
Genetics and bioinformatics of brain circuitry
I am a member of the Virtual Fly Brain consortium, a hub for integration of brain anatomical, expression, phenotypic and genetic data in Drosophila. As the volume of such data increases, there is a need for easy access to it, similar to the ready access to genome data that has developed over recent decades.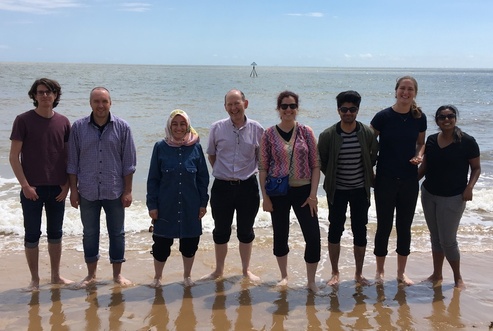 The O'Kane group on their 2019 lab retreat at Frinton-on-Sea, Essex (photo courtesy of Zeynep Öztürk). From left: Juanjo Pérez-Moreno, Neal Nasiboulin, Zeynep Öztürk, Cahir O'Kane, Megan Oliva, Kishen Chahwala, Rebecca Smith, Nishani Jeyapalan. Ayesha Riaz couldn't join us - we missed her!
4 key publications
JJ Pérez-Moreno*, RC Smith, MK Oliva, F Gallo, S Ojha, KH Müller, CJ O'Kane* (2023) Drosophila SPG12 ortholog, reticulon-like 1, governs presynaptic ER organization and Ca2+ dynamics. J Cell Biol, 222: e20211201.  >> Link to paper

Z Öztürk,

CJ O'Kane*

, JJ Perez-Moreno* (2020) Axonal endoplasmic reticulum dynamics and its roles in neurodegeneration. Frontiers Neurosci. 14:48 >> Link to paper
MK Oliva*, JJ Perez Moreno, J O'Shaughnessy, TJ Wardill &

CJ O'Kane*

(2020) Endoplasmic reticulum lumenal indicators in Drosophila reveal effects of HSP-related mutations on endoplasmic reticulum calcium dynamics, Front Neurosci 14:816. >> Link to paper
B Yalçın, L Zhao, M Stofanko, NC O'Sullivan, A Roost, ZH Kang, MR Thomas, O Blard, S Zaessinger, AL Patto, A Sohail, V Baena, M Terasaki,

CJ O'Kane

* (2017) Modeling of axonal endoplasmic reticulum network by spastic paraplegia proteins. eLife 6:e23882. >> Link to paper
>> Full list of publications on PubMed
Page updated April 2023