European Researchers Night
Cahir O'Kane, Megan Olivia, Ayesha Riaz, Junajo Perez-Morena and Neal Nasiboulin all took part in the European Researchers Night by hosting a stall showing a live display of drosophilia stocks with green fluoresence neurones.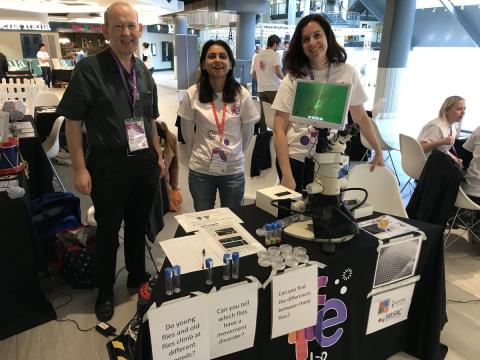 Insight Outreach, July 2018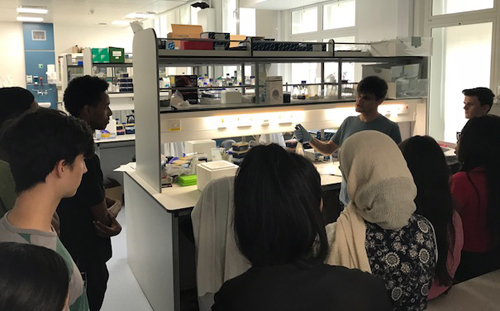 Arunkumar Ramesh and Alex Leitao from the Jiggins Group gave students an introduction to fly tools on 21 July as part of the Cambridge Insight Outreach initiative.
Machine Learning Algoriths in Sierra Leone, June 2018
Downing College South West Residential, June 2018
Dr David Summers participated in the Downing College South West Residential on 27th June.  This annual event is aimed at high-achieving Year 12 students from State schools in Cornwall, Devon and Dorset, who want to find out more about life at Cambridge as an Undergraduate.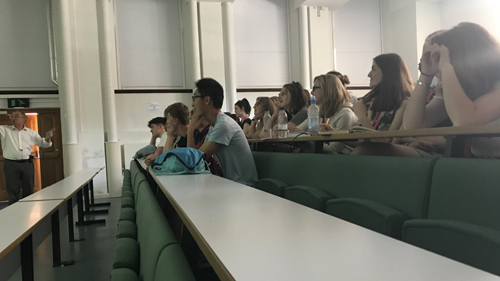 Dr Summers presented an inspiring talk, looking at Darwin's theory and exploring the future of antibodies and antibiotics.
>> Information about South West Residential
Camborne Science Festival, May 2018
Dr Sudhakaran Prabakaran was invited to give an inspirational speech to encourage young kids at the Camborne Science Festival. 70 students from age 4-14 years participated in the event on 12 May 2018. They worked on scientific projects either in teams or individually. Sudhakaran and his son participated in the demonstration and explained how to extract DNA from fruits and vegetables.
>> News item in Camborne Crier - Select June 2018
Cambridge UK Computational Biology and Bioinformatics meetup, March 2018
Dr Sudhakaran Prabakaran discussed developing machine learning approaches to prioritise variants in the noncoding regions at the Cambridge UK Computational Biology and Bioinformatics meetup at Red Bull pub on 9 March 2018.
Cambridge Science Festival, March 2018
Members of the Department made considerable contributions to the Science Festival
Theory of Living Matter pub tutorial, January 2018
Dr Sudhakaran Prabakaran spoke on the subject of 'Machine Learning for Genomical Data' at the Theory of Living Matter Pub tutorial at the Phantom Arms pub on 31 January 2018.
Previous years' outreach activities: